Far West: Western/Wuxia Mashup adventure game
A fantasy world based on the tropes of the Spaghetti Western and Chinese Wuxia. Add steampunk elements. Mix well, & launch with an RPG!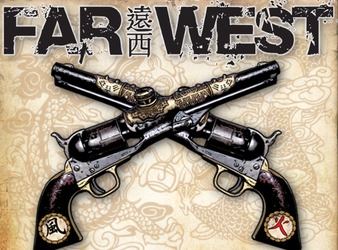 End Date: August 25, 2011
Campaign URL: http://www.kickstarter.com/projects/Adamant/far-west-western-wuxia-mashup-adventure-game
 Why I Backed This Campaign
            I am starting to feel more comfortable with Kickstarter and look at what people locally are doing. Okay, Gareth-Michael Skarka and Adamant Entertainment are not terribly local, but Lawrence, Kansas is not that far away. GMS is also a creator who I have been familiar with for a number of years and knew off and on from regional conventions. It did not hurt that I am a HUGE fan of Kung Fu with David Carradine. The mash-up of Asian and Western is ready made for RPGs. Outside of the adventures of Kwai Chang Caine there is Red Son, Bunraku, Shanghai Noon, and more
 What did I get for my Support?
            I backed for a full-color, signed and numbered hardcover Limited Edition of the FAR WEST adventure game. Included in this was a listing as a backer and a PDF copy of the final product. Once again over three years have passed and I am without reward. One big difference here is that Gareth-Michael Skarka has realized that his silence was leading to a lot of ill will on the part of his backers. Though he has made numerous updates on the project's progress the lack of anything concrete was noticeable. Recently he has begun to update backers on a weekly basis and progress seems to be continuing.
Final Thoughts
            The book looks good, from what I have seen. I am still interested in the RPG theme. From a personal standpoint I think this is a great example of make sure your backers are aware of where you are in the creation process right now. If the book is not written, or you need to pull together art, etc. let backers know. As you move along the creation process it is also important to let backers know what is going on. This can get overdone quickly. Some campaigns have inundated backers with hundreds of updates and quashed any interest in more. GMS updates have not been too numerous, but they are beginning to all appear to be the same "work continues" style.
Carnival – A deck and dice game.
            A deck and dice game for 2-4 players from Dice Hate Me Games.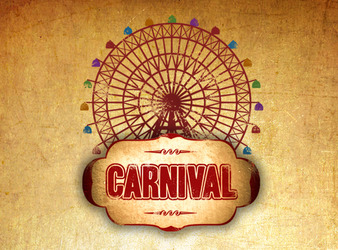 End Date: October 2, 2011
Campaign URL: http://www.kickstarter.com/projects/dicehateme/carnival-a-deck-and-dice-game
 Why I Backed This Campaign
            At this point I knew I had to find games I would create from companies similar to my own. The game had an interesting theme, was already funded, and was coming from a group that felt like my own.
What did I get for my Support?
            I backed for a copy of Carnival including the Sideshow. One of the interesting things about the campaign was that they were promising December 2011 shipping, a 2 month turnaround time. Essentially this was a pre-order situation, not the back us or we don't print it situation. And for the first time in this endeavor I have a product to review.
Carnival itself is a good enough family game a simple set-matching mechanic. Your actions are driven, and limited, by dice rolls. Non-gamers may have an issue with some of the mechanics, but overall the game is very approachable. It will prove to be a little simple, and luck dependent, by more experienced gamers.
Though the components are of decent quality they are not what one would expect for the price point ($35). The card board chits are very thick and the layers have a loose feel to them. The cards are thin, inexpensive, and serviceable suitable to the amount of time this game will absorb. The graphic design on the components, however, is top notch. A solid eye-catcher that draws you into the theme.
Final Thoughts
It can be exciting to jump on a campaign for a cool product, but take a moment and think if this is a game I would buy at my local game store. As we go along you will find me jumping headlong into projects without asking that question. Though overall Carnival is a good game with decent components it is my first taste of Kickstarter remorse.
First four campaigns down. For the first time I actually have a reward in my hands and initial reaction is disappointment? Maybe I need to rethink this Kickstarter retrospective…