Though the world of Luchador presents enmascaderos as adventurers, men of mystery, and globe-trotting super agents they are in their hearts Luchadors.Wrestlers, performers, and heroes to inspire the rest of us.  One of the great real-world promotions that still embody this ideal is Lucha VaVOOM.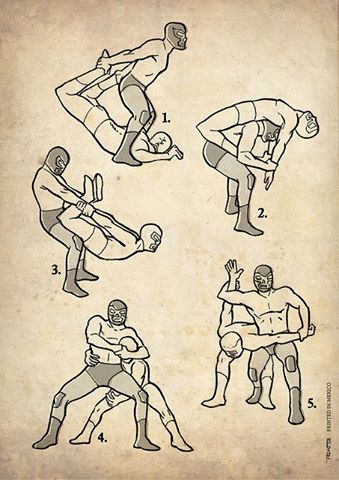 WARNING: Don't go anywhere by yourself without learning these moves first! Be prepared for anything!!
Mexican Masked Wrestling + Burlesque + Comedy = Lucha VaVOOMLucha VaVOOM is a non-stop, action-packed scream-a-thon, where Mexican Masked wrestlers flip and fly, performing breathtaking acrobatic feats while battling evil luchadores. Historically speaking, Lucha VaVOOM brings the bizarre world of 60's Mexican Lucha Cinema to life. Brave, masked wrestling crime fighters save the world from evil brains, vampires, the Bermuda Triangle etc; always with an obligatory stop at the local go-go club.In-between matches, the finest, handpicked burlesque acts from around the world astound; at Lucha VaVOOM, we like a little sexo with our violencia. Raucous aerial acts, Pogo-stick peelers, hula-hoop hotties; we've got it all!
But wait there's more! Our color commentary is handled by comedians Tom Kenny, Dana Gould and Blaine Capatch. Other guest commentators include Fred Armisen, Brian Poussein, Patton Oswalt, Greg Proops, Jeffrey Ross and Bobcat Goldthwait. Even Jack Black sat in, proclaiming "Lucha VaVOOM is the sh*t!
It all began in August 2003 as a one off event. The overwhelming crowd response convinced Rita & Liz to do it again, and as soon as possible.
Ever since, Lucha VaVOOM has played at the Mayan Theater in Los Angeles three times a year — Valentines Day, Mid-summer, and Halloween. From there, Lucha brought it's circus to Toronto, where they did two nights at the Koolhaus and made every newspaper and TV news program, including Much Music.
In 2005, Lucha VaVOOM was asked to be a part of the first HBO Las Vegas Comedy Festival, where they performed alongside Jon Stewart, Lewis Black and Dave Chapelle. That same year they performed at the famous Sony E3 party at Dodger Stadium, where they took the spotlight away from the Pussycat Dolls.
Lucha VaVOOM has gone on to perform in Chicago, San Francisco and Amsterdam, with more cities on the way.
They've also appeared on Jimmy Kimmel, CBS National News, G4's Attack of the Show, Channel X in Britain and A Current Affair just to name a few. Here's what the press says about us:
Lucha VaVOOM has a big future.
TIME Magazine
..It's enough to make even the most jaded Hollywood insider jump up and yell "Smackdown."
Rolling Stone
Lucha VaVOOM is the most exciting, bonkers show I've seen in ages.
The FACE
A madcap mix of Mexican wrestling, comedy, and vintage burlesque. I love, love, love it.
Vanity Fair
Far-out flamboyance always prevails at Lucha VaVOOM, a spectacle of Mexican freestyle wrestling with an L.A. twist.
Los Angeles Times
With this perfectly balanced evening of sex, comedy & comicbook violence, the populace of earth deserves nothing less than a global tour. Everyone needs a little Lucha VaVOOM in their life.
Bizarre