GODS OF HELL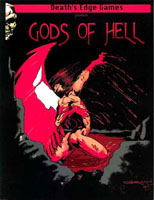 Gods of Hell
$15.00
Imprisoned from the dawn of time, they sit watching and waiting. Hungrily they eye a world that could have been theirs. Gods of Hell allows you to challenge the netherworld in ways never before dared. The full face of Evil bares itself for the first time in this supplement for Inferno.
This Invaluable tome will expand your Inferno campaign to new dimensions:
Expanded Character Possibilities
13 New Races
13 New Classes
New Magical Potential
New Horrors of Combat Unveiled
Brutal New Weapons
New Combat Maneuvers
Whole New Pains
Demon Culture
Religions of Hell
Descent of the Damned
Gods of Hell
Powers of the Fallen
New Devils
Complete Profile and Statistics of the Arch-Devils
Brutal and comprehensive combat rules
160 spells from the spires of Heaven and the pits of Hell
Create and weild magic items of your own design
Dozens of bloodthirsty life-threatening monsters
All of this and the Lords of Hell!